Thanks for visiting our Jamaica, Queens insurance information page. Our agency, First Choice Insurance, has been setting the standard for ironclad coverage for three decades and counting. We greatly value the relationships that we have built throughout the area over the years, and we look forward to making new friends in the future.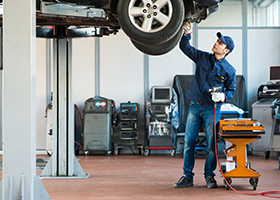 This part of the borough is a very special place to call home with an extraordinarily rich history. In fact, there are many structures in the neighborhood that are noted in the National Register of Historic Places. These would include Prospect Cemetery, Grace Episcopal Church Complex, St. Monica's Church, and the sidewalk clock at 161-11, just to name a few.
Without question, the city is a great place to live, but traffic can be intense and dangerous. It is important to carry the appropriate level of auto insurance to protect your investment and shield yourself from personal liability. Our agency can connect you with the Jamaica, Queens auto insurance that you need at a price you can afford.
We are the low-price leader for insurance in this area because we are not bound by a relationship with a single insurance company. Our agency represents a number of different highly regarded insurers, including Progressive, Travelers, and Mercury Insurance.
After we enter your information into our system, we bring back quotes from all the companies in our network. At the end of the day, you can choose the offer that provides the most favorable terms. As time goes on, our doors will always be open if you want us to review your coverage and see if you are still getting the best value that is available to you.
Jamaica, Queens Home Insurance
We are a full service insurance agency, so our offerings are comprehensive. In addition to the car insurance that we can provide, we are also the most trusted resource for home insurance in the borough. Once again, we are not beholden to any one company, so we can conduct a cost comparison on your behalf so you can go forward with the knowledge that you are not paying any more than you have to for your homeowners insurance.
Contact First Choice Today!
If you are ready to start saving money on your premiums, you can speak with one of our Jamaica, Queens insurance agents right now if you call us at 631-422-6650 or 800-808-9786.