Do you have a car, a motorcycle, or a boat? Owning a personal vehicle of your choice has become an extremely easy affair these days. But have you ever thought about the several risks and threats it exposes you to? In order to save yourself from such hassles, you need to invest in the right kind of insurance for your automobiles. We, at first Choice Insurance Agency, can help. We have been in this field since 1987 and have catered to the insurance needs of a number of people from various aspects, starting with business, flood, or home to even auto insurance. If you are looking for a fool proof plan to help you compensate for the losses incurred due to your automobiles, then we can develop a suitable insurance program for you.  With our quality coverage at affordable rates, we have become one of the most preferred insurance companies in and around areas like Amityville, Babylon, Brooklyn, Deer Park, Jamaica, or Massapequa.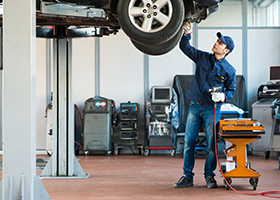 Here, we have put together a list of ways in which an auto insurance can benefit you. Take a look.
Repair & Replacement Costs
Sudden breakdowns are not rare when it comes to automobiles especially if it is a few years old. Regular wear and tear can deteriorate its parts very easily. But the cost of repairing these parts or replacing them with new ones can be a little heavy on the pockets. You can save yourself from this cost if you have automobile insurance.
Accidents on the road are quite common these days. Along with damaging your vehicle, these are also likely to hurt you severely. Therefore, you will have to pay for your medical bills as well as vehicle restoration bills. Such expenses become easier to tackle if you have an insurance coverage for the vehicle you own.
So, if you are interested in our insurance policies, contact us today.