Every conscious citizen knows the importance of having insurance. From homeowners insurance, health insurance to life insurance, its presence is required in different aspects of our lives. So, if you have just purchased a new car, then you should also look into car insurance. Not only is it required by law o carry this document but it can significantly help in lessening financial burden if and when accidents take place. What's more, it is a much more convenient option as well, since you only need to pay a small amount at every regular interval instead of having to arrange a lump sum amount at one go. However, when you are looking to buy insurance, you should only opt for an agency that has a good financial standing in the market and an amazing reputation among clients. If you're on the hunt for such a company, then we, at First Choice Agency, can assist you in this endeavor. We take the time to know our customers and suggest plans that perfectly suit their needs and budget. So, if you reside in Brooklyn, Massapequa, Ozone Park, Queens NY, Farmingdale or Jamaica Queens NY, then you can depend on our services.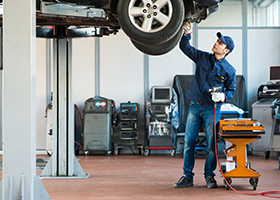 Here are two benefits of purchasing car insurance. Take a look. 
Pays for Physical Damages
When an accident takes place, it causes a lot of damage to your car. Sometimes, these dents and broken parts are not easy to fix with a repair. Along with that, most of these car parts are on the expensive side. In these circumstances, auto insurance can help pay for these physical damages and replacements.
Helps in Settling Third Party Expenses
Auto insurance also aids in paying for third party damages. In many cases, the other party might ask for compensation for the damages and injuries caused to them during the accident. When this happens, you can pay off this additional expense with car insurance.
If you want to buy insurance from us, give us a call at 631-422-6650.