5 Reasons to Get Flood Insurance
Flood insurance is an essential safeguard that provides financial protection in the event of flood damage to your property. 
First Choice Agency provides the same along with other types of insurance in Brooklyn, Massapequa, Queens, NY, Deer Park, Springfield Gardens, Amityville.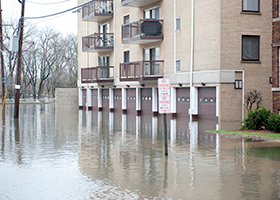 Here are five reasons why getting flood insurance is a wise decision: 
Protection against costly flood damage: Floods can cause extensive damage to your property, including structural damage, destruction of personal belongings, and damage to electrical, plumbing, and HVAC systems. Flood insurance ensures that you have coverage to repair or replace these items, saving you from the financial burden of repairing or rebuilding your home.

 
Coverage beyond standard homeowner's insurance: Homeowner's insurance typically does not cover flood damage. While it may cover water damage from internal sources like burst pipes, it usually excludes damage caused by external floods. Flood insurance provides specialized coverage specifically for flood-related damage, giving you comprehensive protection.

 
Mitigating financial risk: The cost of flood damage can be exorbitant, and without flood insurance, you may be forced to bear the entire financial burden of repairing or rebuilding your property. Flood insurance mitigates this risk by providing financial assistance to help you recover from flood-related losses. It allows you to restore your property and resume your normal life more quickly and without straining your finances.

 
Peace of mind: Living in a flood-prone area can be stressful, especially during heavy rains or when a natural disaster is imminent. Having flood insurance provides peace of mind, knowing that you have taken steps to protect your home and possessions. You can rest assured that you have a safety net in place to help you recover in case of a flood event.

 
Mandatory requirements: Depending on your location, flood insurance may be a mandatory requirement. If you live in a high-risk flood zone or if your mortgage lender requires flood insurance, purchasing a policy becomes essential. Failure to comply with these requirements may lead to penalties or the denial of a mortgage loan.

 
Remember, it's important to assess your risk based on your location and consult with insurance professionals to determine the appropriate coverage for your needs. Please call us without hesitating further.